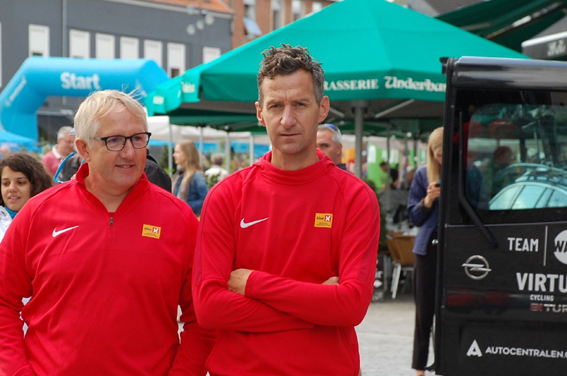 The year is 1998, it is a spring day on the Jutlandic moors. The dust is swirling around the ears of the five riders, that just entered another gravel section. The bikes are jumping and dancing, so the riders have to stay concentrated. At times the bike slips in the gravel and the rider will have to correct their driving, so he won't end up on the fields beside the race, or even worse, will crash.
At the end of the gravel section, when the classical sound of clapping bikes is gone, the only things that can be heard is the controlled breathing and the clicks from the gearshift. This makes the young Norwegian look around. Besides him are two of the biggest bike riders in Denmark; Rolf Sørensen from Rabobank and Bjarne Riis from Team Telekom; winner of Tour De France two years earlier and winner of the race they are in, Grand Prix Herning, the two previous years.
The young man is named Kurt-Asle Arvesen and is the defending U23 world champion. The year before in 1997 he beat the Spanish Óscar Freire, who went on to win the pro World Championship three times, and the Austrian Gerrit Glomser in a sprint. Nevertheless, Kurt-Asle Arvesen is impressed with his company in the break-away in this race. The two other riders in the break-away are Slovenian rider Gorazd Štangelj and his countryman Svein Gaute Hølestøl.
"I remember the 1998 version of Grand Prix Herning. I was in a break-away with Bjarne Riis, Rolf Sørensen, Gorazd Štangelj and Norwegian Svein Gaute Hølestøl. The race became split towards the finish, where I think there was some rivalry between Bjarne Riis and Rolf Sørensen, but at the time, I was more than satisfied with ending as number two behind Bjarne Riis. He was a national hero, I remember. I also experienced that in another race I did just around the same time as Bjarne Riis won Tour De France. I was in a break-away with Brian Holm and some others towards the end of the race. There was a crazy cheer every time we were on the hill, but one of the times the cheering exploded. I remember it as if it was yesterday. I looked back, and Bjarne Riis was coming. He drove op to us, and then just went around us and won the race. I also ended second here behind Bjarne Riis and Brian holm came in third."
Back in 1998 when Kurt-Asle Arvesen participated in Grand Prix Herning for the first time, the gravel section was not anything that scared him or knocked his legs away from under him, as he had ridden on gravel paths from when he was a child. Nonetheless, he saw something in Herning that at the time was not seen often on the international race calendar.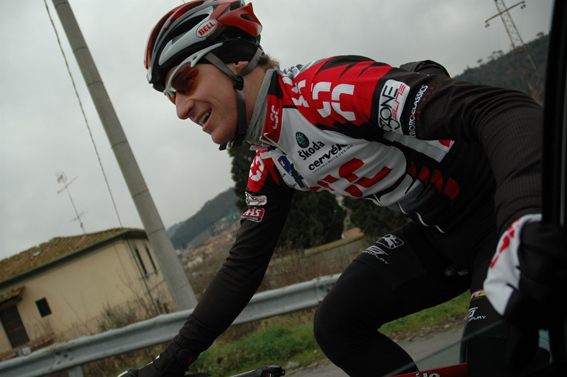 "I grew up the gravel paths back in Norway, so I almost rode as much on gravel as on asphalt. Even though they used to ride on gravel back in the days, it was new when Grand Prix Herning introduced it. In a way, Grand Prix Herning was ahead of its time, when you look at the trend now. It was an iconic race, that managed to gather good teams. It says something about the race when, as an example, Bjarne Riis chose to do the race in his heyday. That made it big for everyone else to be a part of it. It is very nice to have it back on the UCI calendar. We see a boom in gravel in other races. There is also gravel in Tro Bro Leon and Norway we also got a UCI race (Gulne Gutuer) with gravel sections. There is also Strade Bianche, which is almost a classic already. Even in Giro d'Italia we are seeing gravel sections on the stages."
Kurt-Asle Arvesen ended up in the top ten two times more before he ended his career in 2011. In 2001 he ended up 8th as the best rider from Team Fakta, in a race where Rudi Kemna from Bankgiroloterij won, while he in 2007 passed the finish line alone. Kurt-Asle is having a hard time recalling the race, as it was a period where he did a lot of races and had a lot of success.


"My victory in 2007 I do no remember as well, as I did so many races in that period, but I came home alone in front of René Jørgensen and Matti Breschel. I remember I was in really good shape. The day after Grand Prix Herning we did a race in Aarhus (Colliers Classic) where I also got in the breakaway and finished 5th. Before Grand Prix Herning we did Rund um den Henninger Turm in Deutschland where I finished second, and later on, I did Giro d'Italia and won a stage. It was a good period."
Today Kurt-Asle Arvesen is the head of sports on the Norwegian team Uno-X Pro Cycling Team and has been on the team since 2017, after some years at Team Sky. Since then, it has been a steep learning curve and the team has developed each year. The team has had quite a bit more success than first expected and Uno-X now has both a pro bike team and a development team."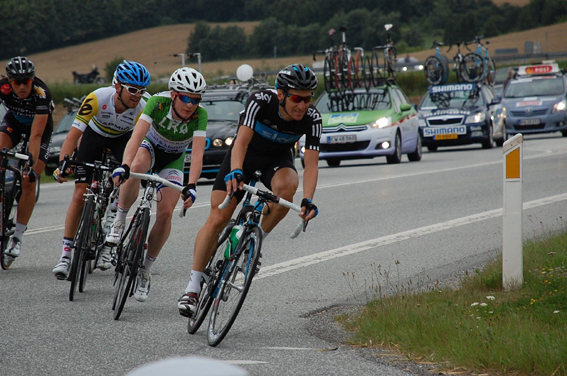 "It was not quite what I signed up for 4 years ago. It was supposed to be a small project when I left Team Sky, but now we are racing against them. A lot of the boys on the team right now have been there for four years. They were not ready for the program we have now, but they have developed with time. Here in the spring, we might have taken on a little too much and did a little too many races, but that is because we got wildcards for Brabantse Pijl and Amstel Gold Race while we also did the Tour of the Alps. We are surprised that we are invited to so many big races. But at this time, we are not a team that is only supposed to do races at the highest categories. We fit a race like Grand Prix Herning better than Amstel Gold Race. We want to be prepared for the races we have done and tries to get the best out of it - also when we do 1.2 and 2.2 races. It means a lot to win. We are not a team that wins a lot of bike races, so we cheered a lot when we won a stage in a 2.2 race in Poland last year (Frederik Rodenberg won the second stage in Albertina Baltyk - Karkonosze Tour) We should not forget where we came from."
This also means that it is a motivated squad starting at this year's Grand Prix Hering. The plan is to start with as strong a team as possible. Preferably a team that could win the race. It is not a coincidence that the team is choosing to prioritize races in Denmark.
"Denmark is an important country for us. Even though we are registered as a Norwegian team, we are just as much a Danish team as we are a Norwegian one. In the coming years, the plan is to have riders that are half Danish half Norwegian. That is the plan for the future. The team for Grand Prix Herning is not final yet, but we will race Grand Prix Herning with a strong team."


The plans for Uno-X Pro Cycling Team are long-term and the constellation of the team means that they have the possibilities to keep a 100% focus on the team and the talent development. The team has already fostered two Norwegian talents, which they have passed on to teams in the WorldTour. Tobias Foss switched to Team Jumbo-Visma in the 2020 season, and Andreas Leknessund switched to Team DSM this season.

"All the riders are employed in the Uno-X system, so the economy is quite safe. It is not me or other sports directors that have to look for sponsors. It is Uno-X that wants this team. It is a unique situation, that we have an owner that wants this team. The team will never be the team that earns a lot of money, but we have to make sure that the money is spent on development. When we pass on riders for the WorldTour teams we cheer and pats ourselves on the shoulder."