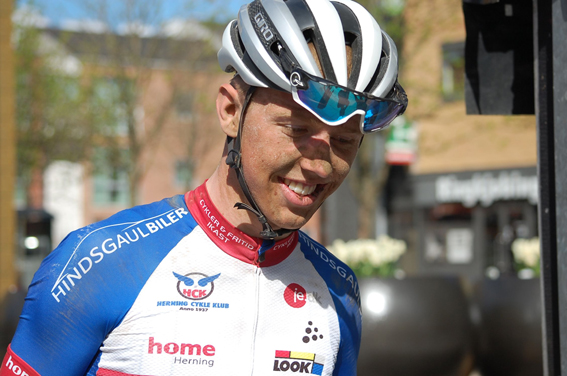 Grand Prix Herning is something very special. Christian Gorm Albrechtsen, who has participated in the race to times earlier, is not trying to hide that. Normally he rides for the Girona-based Spanish team Antiga Casa Bellsolà, who was supposed to participate in this year's Grand Prix Herning but had to cancel. Because of this Christian Gorm Albrechtsen got a place on the dutch u23 team Willebrord Wil Vooruit.


"I look forward to trying the race as a UCI-race. I have only done the race twice, as a part of the DENIM cup, when I became an elite rider. I have been a little "disabled" both times; the first time I had a puncture 6-7 times, of which the last one was at a critical place. The other time I just came back from a knee injury, so I did not have much in the legs. My experience is definitely that you have to be in front on the gravel sections because it is full speed all the time. The last time I did the race I was inattentive on a gravel section, and when we got out, the peloton was split in three. It was just after Vildbjerg, so it was quite early in the race. Luckily the peloton came back together. But it taught me that it is worth it to use a little extra power to be in front and especially to be together as a team. I think that it is the most important day. It is only people like Kasper Asgreen that can do that."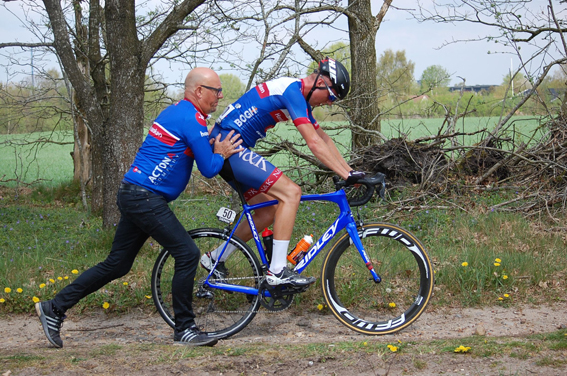 This year Christian Gorm Albrechtsen came better prepared for the race, but even though he is not starting with his normal team, he told them about the race. A race in quite a different terrain than what they are used to in Spain.
"When I try to compare the race for the riders here in Spain, I tell them to look a Strade Bianche - it is very much the same. It may not be as much up and down, but it is as hard on the gravel sections. It could easily be a spring classic. I also tried to scare them a bit and tell them how hard the fight for the positions is. They are more used to racing to a hill and then going up it."
It is a couple of seasons since Christian Gorm Albrechtsen has ridden for a danish team. Last year he also rode for the Girona-based bike race, and in 2019 he tried his luck with American racing when he for a period rode for Team SoCalCycling.com. And it seems that it might be a benefit to get away from the danish roads.
"I found out that I ride a little better when I am away from Denmark. At home, I might be a little too nice to my teammates at the bike races. It is a little easier to relax down here in Girona when I do not know the riders and be an idiot, which you have to be in a bike race. The goal is that I will be able to make a living from racing and to show that there is something in these legs. Even though last year was a bit of a shortened season, I felt that I showed some good form. This winter has been good for me, and I have been able to train well all winter and prepare well. The goal is definitely that I can move up a step - up where it is really fun."
Christian Gorm Albrechtsen's danish sports director Johnny Weltz also votes for the god form and has noticed that Christian Gorm Albrechtsen has matured over the last year. He sees an ambitious bike rider, who knows what he wants and what it takes to make it.
"Christian has matured over the last year. He was a young boy that just sprung into it, but he has been extremely good at structuring himself, and he got better in the mountains. This is something that means something down here because it can be a little relentlessly because there is no mercy in the mountains. And he also has something that the Spaniards do not; a top speed on the flat part, so he can put them in place. He is an intelligent young man, and he is very ambitious. It is very nice to see that he is focused on what he wants. There is potential in him."
That Christian Gorm Albrechtsen ended up on a team in Girona was kind of a coincidence. He lives in a small city called Banyoles, which is 10-12 kilometers from the city of Girona. He lives in a team house, where the team's non-Spanish riders live throughout the season. The house also works as a service course and is a meeting point, when the team has to meet for a training or a race.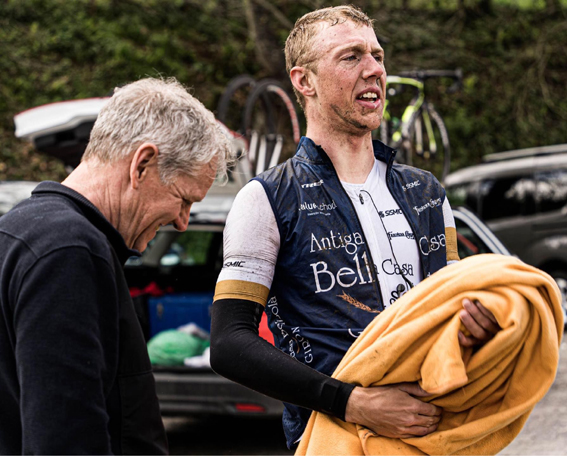 "It was kind of on my own initiative that I got on the team. I follow Jonas Gregaard from Astana on Instagram and saw that he shared a post that this team was starting and they looked for international riders. I just wrote them and asked them if they had a slot for me. I sent them my bike-CV and some results - and then they wanted me on the team"
On a day-to-day basis, he trains with his teammates from the house and the riders that live nearby. Christian Gorm Albrechtsen is not the only Danish rider in the area and enjoys the training opportunities with the Danish pros that live in Girona.
"We train together in the house and the people that live close. And then I am also part of this "Dane-group" down here, with the other Danish riders living in Girona. Sometimes they are good at writing in the group that they are going training and if anybody wants to join. There are often some rides with the Danish pros. There is almost a small colony with Mikkel Bjerg, Mathias Norsgaaard Jørgensen, Niklas Eg, Casper Pedersen, Magnus Cort, Mads Würtz Schmidt and Lasse Normann Hansen. It is quite cool to train with them"