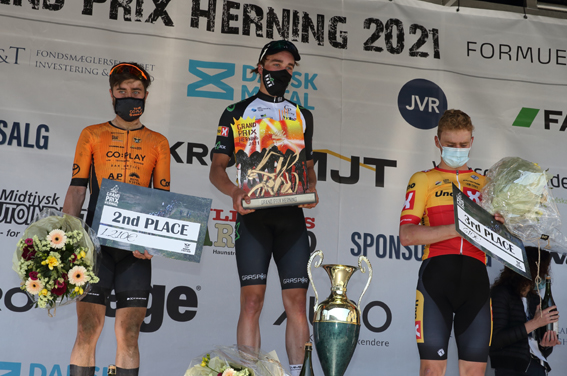 Photo: Dennis Boutrup
"I am expecting to race GP Herning again this year".

When ColoQuick Cycling was on the start line of Formuepleje GP Herning 2021 with their sprinter Nicolai Brøchner as well as their attack-merry rider Mads Østergaard Kristensen, the team knew they had a good chance of ending on the top of the podium. With 25 kilometers to go, Mads Østergaard got away from a decimated peloton along with the Co:Play Giant rider Magnus Bak Klaris. After a close sprint, Mads Østergaard crossed the line first, with Magnus Bak Klaris and the peloton closely behind him.


"When we went into the race we had multiple cards to play, and in an unpredictable race such as GP Herning, where punctures and crashes play a big role, it showed to be important. I could pursue the finale out from the gravel sections, and if we were to end in a group in Herning, we also had fast riders for that"


The roads around Herning are not unfamilliar to Mads Østergaard. Besides having ridden GP Herning two times earlier, he has ridden for the Herning-based junior team, Team Herning CK Juniors as well as the Herning-based Elite Team, Herning CK Elite. Mads Ø started riding when he was 15 years old, in Varde Cykelklub.

"I started riding with some good friends from Varde, where I live, and to this day, we still train together daily. I started riding more and more, and in 2015 I did my first bike race"

The transfer to Team Herning CK Junior came quickly after Mads Østergaard's first race, and he did a total of 5 years for the Herning-based teams, before he transferred to his current team, ColoQuick Cycling.


"After my first junior race in 2015, where I ended 3rd, I was lucky enough to be contacted by Herning Cykle Klub, who asked me to be a part of their team. That was the start of 5 very good years in the club, with a lot of cool experiences, where I developed a lot, which allowed me to move on to ColoQuick, where I ride today"


7 years after Mads Østergaard took the third place in his first junior race, he has no less than 12 victories on his palmares; besides having won the Swedish stage race U6 twice, he has 5 stage wins in stage races and 5 victories in one-day races, where his victory in GP Herning is his first UCI-win. The promising results have made Mads Østergaard dream, and in the later years, those dreams have become about being a pro cyclist.


"My goal has always been to develop and become better, and to see how long it takes me. This is also why I now work towards the next step, to become a pro rider, as I see that as a part of my development"




Photo: Dennis Boutrup
On the 21st of May 2022, ColoQuick Cycling will once again be on the start line for Formuepleje GP Herning. Both Mads Østergaard and the team's tactics are ready for this year's race.


"I am expecting to race GP Herning again this year, and as always it is a race I look forward to. With all the gravel sections and the hard race it creates, I have always thought it to be the coolest race in Denmark. In a race like this, it is extremely hard to create a set plan, and because of that, I think the tactic will be to enter the race with a strong team, where we have multiple bids on a winner".